By
admin
on
November 24, 2014
in
796.com, arbitrage, bearish, bitcoin, bitcoin analysis, bitstamp, btc, bullish, counterparty, exchange, government, LibertyLifeTrail, OKCoin, possible price manipulation, price, Spanish Bank, Tone Vays, USD
Bitcoin Analysis from Tone Vays on CoinTelegraph.
About
Bitcoin bolt brings together important news about Bitcoin. The best way to stay in touch is by
subscribing via email
, or by following
@BitcoinBolt
. Here's some
great Bitcoiners to follow
. The creator of this site would also be flattered if you read some
longer form posts on Bitcoin
.
Follow @BitcoinBolt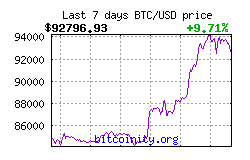 Search 14875 posts since October, 2010:
Reddit
Reddit is a great up to the minute place to catch up:
Tweets.
Archives
Categories